Geographies of selve I Queer Elsewhere 2022


Workshop
In this workshop I focus on the space of tension that opens up, living in between different identities and places. Through different drawing but also embodied mapping exercises the participants can start identifying the tangible and visible manifestations of their own in-betweenness. Creating geographies of selves. The workshop is based on my research Tracing Nepantla where I engage with Gloria Anzalduas writing and specially her description of Nepantla. Nepantla is an indigenous Nahuatl word and means "to stand in the middle". In this artistic research I have used mapping as a method to trace my personal in-betweeness (Nepantla) and the manifestations of it in Berlin.
(NOT) OUT OF PLACE – Post- and Decolonial Thoughts for a new Architectural Practice

I UdK 2022


Co-lead with Sarah Naira Herfurth
What do we mean when we talk about terms like colonialism, postcolonialism, decoloniality and coloniality? And how do these terms/constructs/ideas shape the planned and built environment? How do we encounter colonial traces and racist structures in the city, in architecture, in the architectural practice and teaching? How do these relationships shape, for example, our aesthetics and the way we think and speak about space? How can these inscriptions in space be analyzed and transformed?
In this seminar we read and discussed post- and decolonial theories by spatial planners and theorists in order to examine the built space for colonial traces. In the second step we focussed on the element of the plan as the most common and most elementary form of architectural representation. Here the plan itself served as an analytical tool to recognize the inscription of racism and colonialism in the architectural discourse. Based on this, the participants of the seminar worked on investigations of self-selected topics using architecture representation techniques as tools to deconstruct and overcome colonial and racist inscriptions in space.
The seminar was accompanied with a guest lectures by
Tazalika M. te Reh, Imani Jacqueline Brown (Forensic Architecture), Dimitra Andritsou (Forensis) and Bonaventure Ndikung.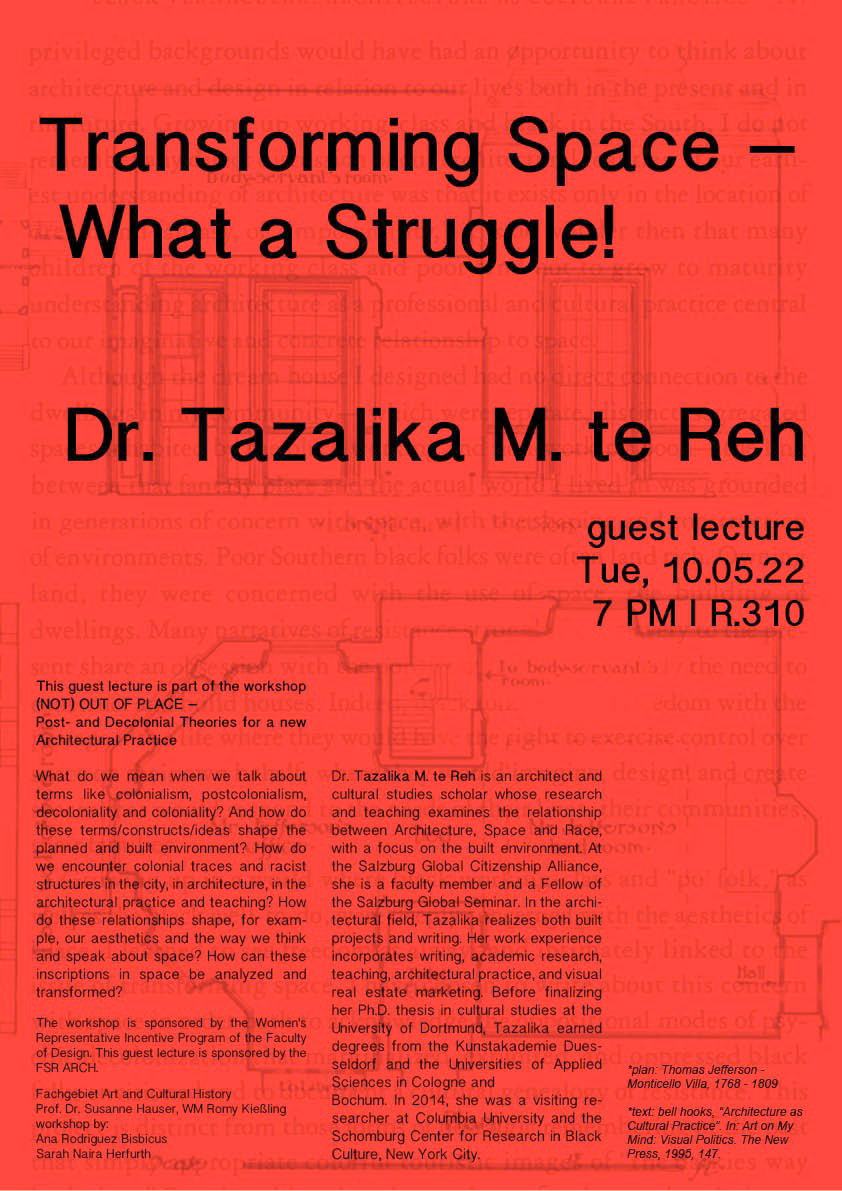 Back to normal? Mapping a post-crisis counter-inventory I UdK 2021


Co-lead with Lara Stöhlmacher

fem_arc STUDIO is a three-day design studio in which students challenge existing power structures in the built environment by learning new design tools. Since the F_TALKS and F_PODCASTS, fem_arc has been promoting visibility for non-conforming spatial practitioners and practices.  fem_arc STUDIO is a subversive space to finally put the discussions into practice, and to explore the emancipatory potential of designing differently.
Visit here the studio website